As an artist-blacksmith I specialize in original custom forged steel art, especially forged steel Shadow Sculptures.
My studio is a state-of-the-art modern blacksmith shop, centered around the forge and the anvil. I have several of each, and enjoy modern tooling such as the power hammer, hand-held air hammer, hydraulic press, and fly press. But at heart, my work is all hand work.
Several years ago I began teaching
blacksmithing here, and have found that to be very
enjoyable. I welcome students of all abilities,
but focus primarily on CBA Level I classes.
In recent years I have begun to focus primarily on Shadow Sculptures and related forms, including various types of Visual iAlign Sculptures. I have found these to be very challenging and enjoyable. Jump to my Shadow Sculpture page to learn more!
What's New – Recent Highlights
On this blog page I'll post summaries of things that have excited me!
California Blacksmith Magazine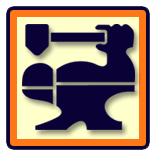 For about ten years, I have been the editor of the California Blacksmith Magazine, for the California Blacksmith Association. This has been rewarding for me, allowing me to meet and learn from many superb blacksmiths.
Shop Address
Ridgecrest, CA